We recognize that all our patients are unique and deserve to receive orthodontic care that reflects their individual needs. Our experienced and talented team is committed to working with you and your family to create a comfortable, stress-free, and rewarding orthodontic experience every time you visit our practice.
We are pleased to welcome you and your family, and we look forward to working with you.

Denise
Patient Coordinator
Welcome to Pack Orthodontics! I really enjoy getting to know our patients and watching people's smiles transform. I'm excited that I'll see your new smile develop! You'll meet me at the front desk, where I'll greet you, check you in, update paperwork, and set future appointments. We're a big family at our office and I look forward to welcoming you to it!
Outside of work, I love to travel with my husband of more than 30 years, Jack. Being a military brat and wife for my whole life is probably why I enjoy visiting new places and trying new things. My priority, when I have down time, is being with Jack, as well as our two sons, daughter-in-law, and our grandchildren.

Rachel
Financial Coordinator
Hello! Having a beautiful smile can be more affordable than you think! I'm here for your financial and insurance needs. Insurance can be very confusing. I take pride in being knowledgeable, and I will find out any answers to questions I may not know.
In my free time, I like to go hiking and kayaking with my husband, Richard. I have two teenagers, Sydney & Connor, along with two cats, Leo and Larry.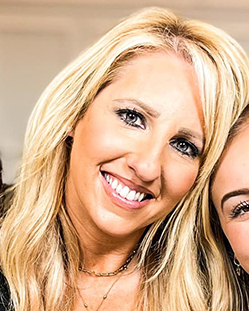 Jillian
Treatment Coordinator
Hello and welcome to Pack Orthodontics! I'm Jillian and I love working with people. I'm lucky because I get to meet and spend time with all our patients and I'm happy I'll get to know you. As the Treatment Coordinator, I'll walk you through your initial visit, present and review fees, and coordinate your treatment. Dr. Pack is an incredible orthodontist and our team is hardworking, talented, and loves to have fun.
The greatest loves in my life are my boyfriend Ashley and my two teenagers, Austin and Anna Grace, along with his two daughters, Allie and Anslie. We have a farm and just built our home in Shelbyville where we have walking horses and enjoy going to horse shows and coon hunting. We love traveling to the mountains and the beach, and value time with our family and friends.

Ashley
Public Relations Coordinator
Hi there, and welcome to Pack Orthodonics! My name is Ashley, and I am the Public Relations Coordinator. In this position, I foster all of our external office relationships with local dentists, referring doctors, as well as coordinate events we host or participate in. I am responsible for creating all of our marketing graphics, including our patient contests and social media posts. I am a people person to my core, love networking, being creative, and laughing often--I've been told people can hear me laugh before they see me!
When I'm not at work, I'm enjoying my time with my boyfriend, Ed, and all four of our kids between us--Knox, Cecily, Hailey & Ethan. Cooking, watching Guy's Grocery Games, playing with our doggy, Blue, and spending time with friends are some of our favorite things.

Morgan
Orthodontic Assistant
Welcome to Pack Orthodontics! I'm Morgan and I'm a people person through and through. I love being part of creating beautiful smiles and seeing how treatment changes people. I know you're going to develop an incredible smile and get a big confidence boost! I work in the clinic where I assist Dr. Pack with various procedures and treatments. He's an amazing doctor and our team is the best. We all will strive to obtain the most awesome outcome for you and your smile!
My life is shared with Rome, my cat. I love my family: sisters, brothers, nieces, nephews, mom, and stepdad, and I enjoy traveling and riding outdoors in R2Rs year-round.

Laurie
Orthodontic Assistant
Hi and welcome! I am really excited that I'll meet and get to know you during treatment. I like witnessing how people change as they see the change in their smile and I know you're going to become much happier and confident with a new smile! Working in the clinic, I sit chairside and assist Dr. Pack as he creates great smiles. This is the happiest office, and we all have fun while we work!
When I'm not at Pack Orthodontics, I'm usually enjoying time with my husband, our adorable little girl, and our two fur babies. I like going on motorcycle rides in the country with my husband and spending weekends on the lake in our boat.

Kayla
Orthodontic Assistant
Brace yourself and welcome to Pack Orthodontics! I'm Kayla, and I love to make people smile. Working with the Pack Team to improve your smile brings me joy. I work in the clinic, where I assist Dr. Pack on many procedures and treatments. He is an amazing doctor, with the best team.
When I'm not at work, I spend time with my boyfriend and friends. We love outdoor activist, and exploring new places. Spending time with my family and playing with my cat, Dexter, is also the best!